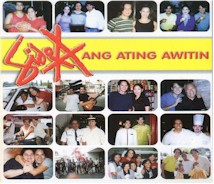 SIDE A's LATEST "ANG ATING AWITIN"
It's the Centennial of our independence, so what better way to pay tribute to that
important occassion than to come out with an album of the best OPM compositions
and give them a new twist by arranging them the Side A way.
That is exactly what SIDE A did on its seventh and latest album entitled "ANG ATING AWITIN" (Our Songs). Arranged and produced by band members Joey Benin and Naldy Gonzalez is a collection of some of the best and most memorable OPM compositions of recent years, revived and re-arranged for better appreciation of today's audience.
"We wanted to do something, but we didn't want it to be just another Centennial album," says Naldy, the band's musical director. "We wanted a band album with a young, new sound that could reach out to our audience but still pay tribute to the best of Filipino music--so we came up with the concept of doing a collection of golden hit songs na puro OPM."
The Carrier single of the album is "Ang Aking Awitin", originally popularized by Bong Gabriel and composed by Egay Guerrero and Randy Ray. Also included are revivals of other OPM hits like Anak, Let the Pain Remain, Kailangan Kita (done acapella, with Ryan Cayabyab as vocal arranger, Pinay, Habang May Buhay and Manila. The band also does it's own rendition of a Filipino Classic, Ugoy ng Duyan ,a Lucio San Pedro composition.
Another highlight is a new version of their hit single Forevermore featuring back-up vocals by Toy Symphony members Elke and Mira Saison, sisters of Filipina Billboard star Ella May Saison.
"Ang Ating Awitin" is an album that is classic Side A: a collection of songs that you'll want to listen to over and over again.